After a fairly boring week for Phillies baseball that saw two snow/rain postponements in Colorado, the Phillies batters have been on fire, continuing to score runs at the scorching pace at which they began the season. The Phillies have scored 19 runs in two games, and are now one behind their free swinging series opponents in total runs in the NL. Hopefully that will change today.
The sausage race, a highlight of Brewers home games
(Photo courtesy of mlb.com)
Rewinding a little bit, last Wednesday was supposed to be a double header for the Phillies and Rockies, after Tuesday's game was postponed. Wednesday's afternoon game was played as scheduled, but the heavy precipitation came back and the night game was again postponed. The afternoon was a rough one, where Roy Halladay managed to pitch into the 7th inning while getting out of jams left and right and only giving up one run up until that point. He might have pitched out of the 7th inning if not for some errors and a few bad pitches which ended up tying the game up at 3-3. J.C. Romero and Danys Baez managed to keep it tied for the next two innings, aided by an insane amount of luck (read, hard line drives hit directly at Phillies). Chad Durbin still kept it tied in the 9th, but came out again for the 10th and promptly gave up a walk off homer to catcher Miguel Olivo. This was Olivo's 5th hit of the game, so it's probably good the Phillies didn't have to face him again Wednesday night.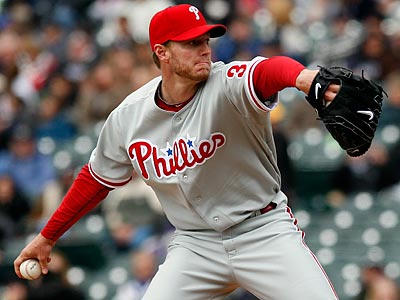 (Photo courtesy of Ed Andrieski/AP)
Moving on to the sausage fest at Miller Park, Jamie Moyer was back on the mound for the first time after pitching his historic two hit shutout against the Braves a week before. He had another outing with several solid innings and one bad one, where he gave up three homers, luckily all solo shots. He passed the 500 homer mark with the second of those three, making him the second pitcher ever to do so. As I've mentioned before, the other pitcher is Phillies great Robin Roberts with 505, and Moyer should pass him in the next three or four starts, so keep an eye out for that. It should be mentioned that behind Moyer and Roberts on that list is no shabby group of pitchers. Todd Zolecki
pointed out
that, "rounding out the top 10 are Ferguson Jenkins (483), Phil Niekro (482), Don Sutton (472), Frank Tanana (448), Warren Spahn (434), Bert Blyleven (430), Steve Carlton (414) and Randy Johnson (411)." If that's not good company for a pitcher, I'm not sure what is. Anyhow, other than those three home runs and a few runs that could have been saved had Chase Utley not committed an error in the 7th, Moyer had himself a solid outing. The offense provided more than enough support, including some fine production by the bottom of the order and homers by Utley, Ryan Howard, and Raul Ibanez. The Phillies, wearing shiny powder blue throwback unis, took this one 9-5.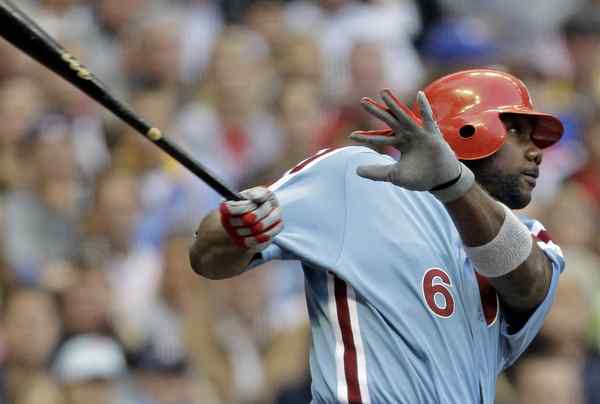 Ryan Howard, homering in the first
(Photo courtesy of Morry Gash/AP)
Joe Blanton came to the mound yesterday afternoon and, except for three pitches, pretty much dominated the Brewers lineup. Unfortunately those three pitches were hit out of the park for five runs. One has to keep in mind that Blanton is still in recovery mode after his recent stint on the DL, so he should only get better as the season goes on. The offense came through again, with the bottom of the order pulling their weight and then some, which they had also done Friday night. As a good example of this, Paul Hoover, the back up back up catcher, scored three runs after scoring two the previous game. How many runs had this journeyman scored in his entire nine year career up until this point? Why, I'm glad you asked. The answer is four. That's right, he scored more runs in his first two starts this year for the Phillies than he did in his entire career up until now. In addition to that, Victorino continued his recent destruction of opposing pitchers, going three for six with a single, double, and homer and driving in four runs. He now is second only to triple crown contender Andre Ethier in RBI for the NL, and that's all out of the leadoff spot. That's a tribute both to Shane's hitting and the productivity of the bottom of the Phillies order. The Phillies won 10-6, despite a nerve wracking bottom of the 9th where Jose Contreras finally struck out Rickie Weeks and Craig Counsell to end the game and end his first career save.
(Photo courtesy of H. Rumph Jr./AP)
For now, Jose Contreras had better keep pitching the way he has so far because he is the team's closer. Brad Lidge has returned to the DL, after the Phillies announced he was only day to day following an MRI that showed no serious damage to his elbow. Unfortunately, the inflammation that has kept him from pitching for the past week does not seem to want to go away. His time on the DL has been made retroactive to May 10th, so he will be eligible to pitch again on May 25th, and will hopefully get whatever cortisone or joint lubrication injections he needs to be back before then. Lidge's few appearances offered a tantalizing glimpse at what might be if Lidge is indeed healthy again, and I still believe his arm has life left in it. For the sake of this bullpen, let's hope so. Otherwise Ruben Amaro Jr. and the rest of the Phillies' front office might be busier than they planned come this year's trade deadline.