Lately, the focus at Citizen's Bank Park has been on a the antics of a few fans and the performances and injuries of a few pitchers. First, the fans. During Monday night's game, a 17-year-old fan decided it would be a great idea to run out on the field, after his dad told him not to do so, and was chased around before being tasered by a police officer on the field. This incident would have gotten almost no attention had a taser not been involved, but such is life and yet another story involving Philadelphia sports fans went around national media. This spotlight might have led to a fan deciding last night during the 9th inning to run out on the field once again, though no tasers appeared this time. I don't care for the use of tasers in situations like this, where no threat was posed and the perpetrator had nowhere to run but "around." If the officer legitimately believed that a threat was posed in that moment, I won't second-guess him on that. If he used the taser because he wanted to have the situation resolved more quickly, then that's using force out of laziness and inexcusable. In any event, let's hope the fan on the field streak doesn't continue tonight.
(Photo courtesy of Matt Slocum/AP)
Second, the pitchers. Brad Lidge and Joe Blanton are back, and thus far (in a very small sample of pitching) seem to be in good form. Ryan Madson is out for two months after he broke his toe from kicking a folding chair in frustration. Being so familiar with frustration lately, Madson should be able to identify with all the Phillies fans who now want to kick him for injuring himself in such a stupid way. With Madson out until mid-July at the earliest and J.A. Happ out for at least the rest of May, the pieces that were supposed to fall into place with Blanton, Lidge, and J.C. Romero returning from injury remain as muddled as ever. As with this time last year, the Phillies 5th starter, Kyle Kendrick this year and Chan Ho Park in 2009, has not pitched well (
more on that
over in the Phillies Zone). It would be nice to say that Kendrick is on a short leash at this point, but as they point out in the post I just linked to, there isn't much of a viable alternative waiting in the wings. For now, we just need to hope that Roy Halladay continues doing what he does best, Blanton stays consistent, and Hamels continues his return to his pre-2009 form (more on that later) so that only two days out of five are a concern.
You think my toe looks bad? You should see the chair.
(Photo courtesy of Christian Petersen/Getty Images)

Monday night's game was not the best for a Phillies team hoping to continue the momentum from two straight Mets beat downs on Saturday and Sunday, but there were silver linings. Though they lost 6-3 in the end, Blanton looked like he was ready to continue where he left off last year, as a reliable third starter who can last through the 6th or 7th inning on a regular basis. Leaving him in to start the 7th during this game was a questionable decision on Charlie's part, as was bringing in Nelson Figueroa to get out of a two out jam, which Figueroa was not able to do without letting four runs score, two of which were charged to Blanton. Besides the silver lining of Blanton's performance, Brad Lidge pitched a scoreless 9th while notching two strikeouts. Being down 6-2, it was not exactly a high pressure situation. That would come during the following game.
(Photo courtesy of Stephen M. Falk/Philly.com staff photographer)
Last night's game, with apologies to a timely Raul Ibanez triple in the 7th, was the Cole Hamels, Brad Lidge, and Carlos Ruiz show for the Phillies. Hamels looked phenomenal. He pitched nearly effortlessly through eight innings, except for a jam when, in the 5th, Albert Pujols came to bat with the bases loaded. He then popped out to 2nd on the first pitch. Otherwise, Hamels struck out eight, walked two, and came out for the 9th and gave up back to back doubles to tie up the game at 1-1. Brad Lidge came in with Yadier Molina on 2nd, got a ground out that advanced the runner, then a strikeout and a fly out. The only base runner he allowed was an intentional walk to Colby Rasmus. Both Hamels and Lidge hit velocities with their fastball that haven't been seen from them in a while, or ever in Hamels' case. So far, Lidge appears back in the mid-90s and his slider has the bite that it was lacking last season. Hamels was regular throwing 92-94 mph and even hit 95 once. He also threw his cutter and curveball effectively. On the Cardinals' side, Adam Wainwright also pitched incredibly well, with the only Phillies run coming on a sac fly by Carlos Ruiz to score Ibanez in the 7th following Raul's triple. Ruiz proved to be the hero of the game, when, after Contreras pitched a scoreless 10th, Ruiz hit his first walkoff homer since 2007 off of Blake Hawksworth. Chooch, with the 4th highest OBP in the majors right now, is in Se
ñ
or Octubre form early this year.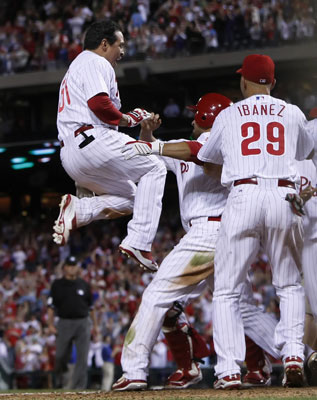 (Photo courtesy of Ron Cortes/Philly.com staff photographer)
I don't have much else to say at this point, but it would be nice to see Kendrick make a decent start tonight. Even when Happ is healthy again, either Kendrick or Moyer will have to be in the rotation, and neither has inspired much confidence so far. I wouldn't be shocked to see the Phillies making a deal with Pedro Martinez again or even John Smoltz halfway through the season to bolster the rotation. As of now, if things keep going as they're going, outside help may be necessary. Fortunately, the 1-2-3 in the Phillies rotation is shaping up to look much better than it did for most of last year. For now, once again to all those injured: get well soon.